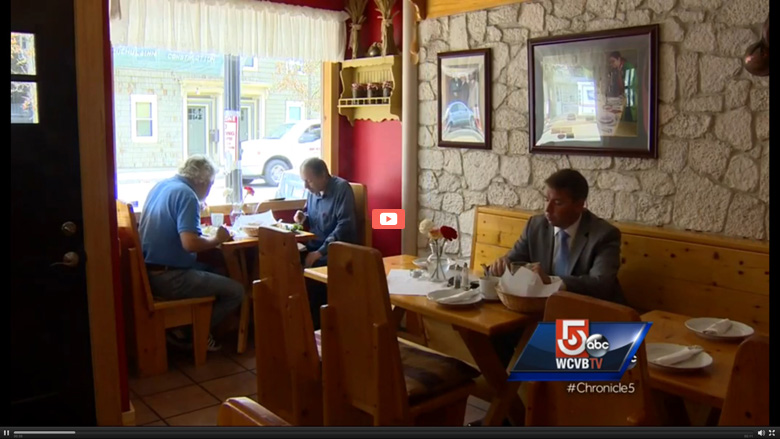 Just off the expressway on the Dorchester southy line sits a pretty cool ethnic neighbor you likely never heard of. Bordered by Boston Street, Dot Avenue, and Columbia Road, it's known for generations as the Polish Triangle. Even Poles who migrated to the suburbs still return often for the kielbasa, pierogis and old world charm. The folks that moved out, they still come back to this community, Sundays to go to mass and Saturday they bring their kids to the Polish school and come shopping at the Polish delis and buy tickets at the Polish travel agency. So the area still remains the heart of the Polish community in eastern Massachusetts.
The Polish triangle was at its hey day in the 1980's, when eastern europeans liked communism. But today you can still find food markets filled with Polish products from sauerkraut to cabbage, bisquits to pickled tomatoes. Then of course the local Americans that come in and it's like "Oh, i'm looking for sugar or gravy." "I don't carry American. And a lot of the stuff it's like 'Oh my God that stuff was so good.'"
D.J.'S market has been in the family for 40 years. But it's come to be known for its pastries, meats and rather ample Polish donuts. "Basically what distinguishes this from donuts as we know them is they have no holes and they're the size of your head. Is that safe to say?"
"It's a decent sized donut, it is."
Called a punchke in Polish, they have no preservatives, so they puff up like pillows, filled with flavorful jams. "I have to bite deeper, it's buried further. What a shame. Look at this thing."
"But it's good. It's delicious. And it does look huge, but they're light."
"This is your trademark. They're very good."
"We're very proud."
"Excuse me."
Our Lady of Czestakowa at the church they still say a daily mass in Polish, and on Saturdays 200 suburban kids come in and learn the language at a building nearby. In and around Andrew Square, you'll find bank tellers who speak Polish, a Polish American citizens club, and a law firm, Szyjka & D'Eramo, anchored by a Polish speaking attorney.
"Polish people are pretty proud people, they're proud of their ancestry, their culture, and it's very important to maintain that. I myself am a member of the Polish American Congress, the eastern Massachusetts division, and we have a lot of events that we plan, cultural, business events in order to further those interests."
Darek Barcikowski, who also grew up here, now publishes the only Polish newspaper in the state. He also helps run his family's beloved restaurant, Cafe Polonia, which is the state's only full service Polish restaurant.
"We get a lot of customers who have Polish heritage, or who remember their grandparents or their parents or great grandparents cooking stuffed cabbage when they were little. So for a lot of people it's very nostalgic. But we also have a lot of people who just want to try something different."
A ton of people actually. Cafe Polonia is so popular, it's recommended in a Japanese tourists guide, and was just featured on the Food Network's Diners, Drive-ins and Dives.
What are some of the specialities of the house? "Our pickle soup. A gypsy pancake, which is a potato pancake with goulash in the middle. Pierogis, are definitely, you know, kielbasa, sausage, stuffed cabbage."
With one foot in the past and one in the future, many second generation Polish Americans speak fondly of growing up here, so they stayed.
"Everyone growing up here, if you weren't Polish, you had Polish friends, so everything they did was drenched in this Polish culture and they're still here and raising their kids here."
[This] 7-year-old stitch house teaches knitting and sells upscale yarns and fabrics, though the Polish triangle has gentrified and is now more ethnically diverse, she says the core values of her parents' generation still define this place.
"People really watch out for each other and there's a great balance of the old Dorchester, you know, people that have been here for generations and new Dorchester, which they want to be here. It's just wonderful, it's fantastic to be from here and to be part of it."
from the full transcript (Photography: Dorchester Reporter)
Watch the news story WCVB