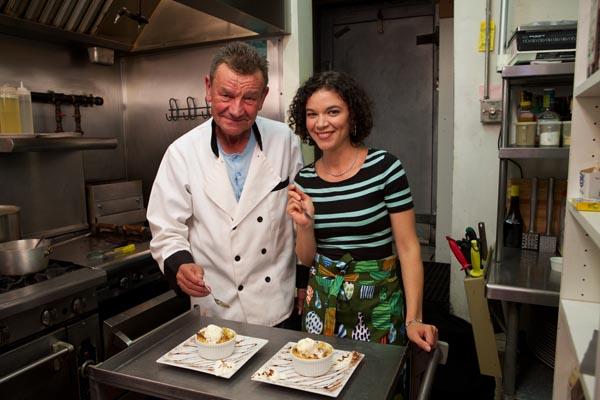 I have a soft spot for Polish food and search it out wherever I go. Lard spread with fried bacon bits on a slice of Polish rye bread is an excellent way to start a meal.
At Cafe Polonia on Dorchester Avenue in South Boston, the satisfying Polish plate comes with a bit of kielbasa, a small serving of bigos which is a hunter's stew with cabbage and beef, stuffed cabbage called golabki, and a selection of pierogis sauteed with onions. All of these hearty flavors represent comfort food at its finest.
The Polish Triangle has changed over the years. There is not as great of a full-time Polish presence in the neighborhood. However, the neighborhood remains a place where Polish culture is actively preserved for the region. Saturdays and Sundays are the busiest times at the market and restaurant for Chef-owner Tedeusz Barcikowski,or Teddy, and his wife Joanna. The increase in activity is in part the rush of people also there to attend mass at Our Lady of Czestochowa Church, which still offers several masses in the Polish language. After services, Polish immigrants and those of Polish descent stock up on Polish specialty items or enjoy eating out.During my visit I encountered the welcoming Krakowiak Polish Dancers of Boston, who eagerly dressed me in a costume and invited me to partner in a folk dance. It was such a treat to meet members who had relocated to Massachusetts from Poland just a few years ago.
It was wonderful to experience a taste of Polish cuisine and culture and see that it continues to thrive so close to the heart of Boston.
BY MARGARITA MARTINEZ (Photography: Patricia Alvarado)
Read (and listen to) the full story (WGBH)